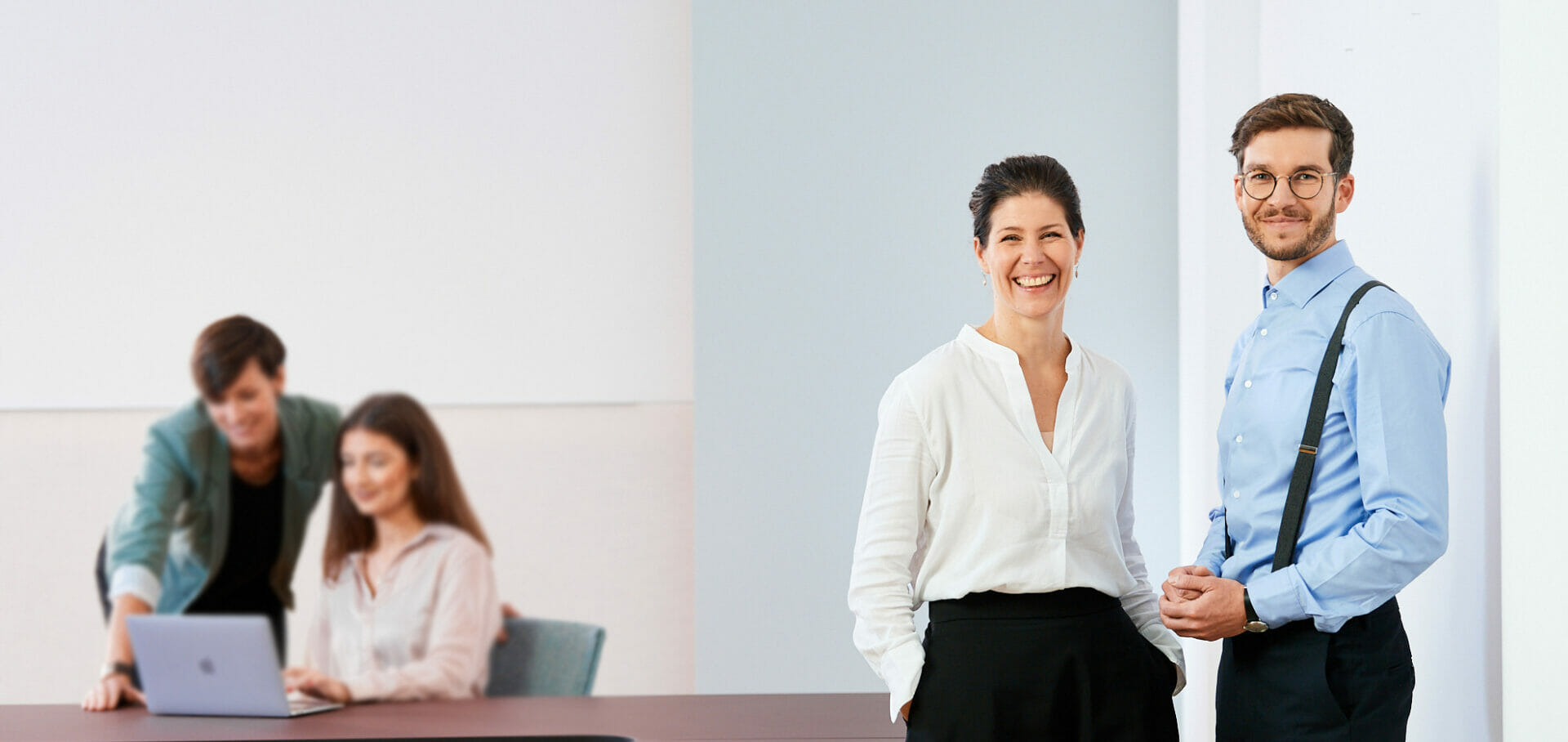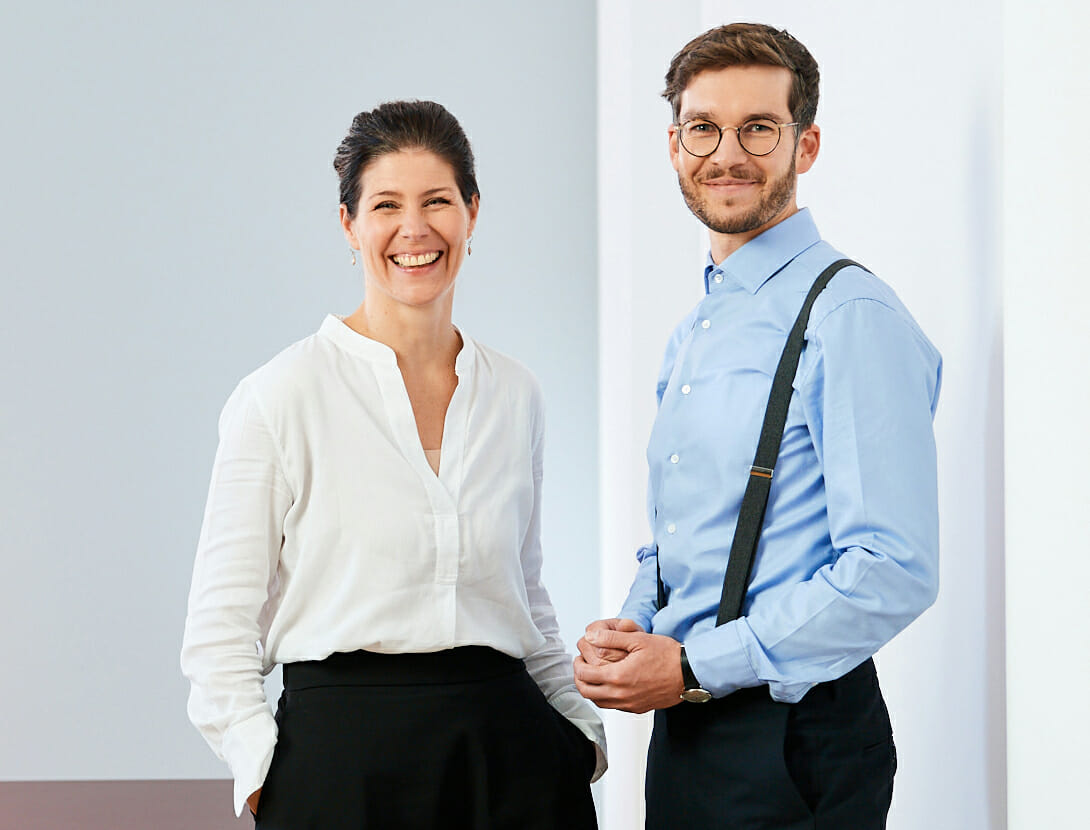 The Fürstenberg Institut
Empowering people and creating healthy work environments - that is our passion. As experts of long standing in the field of mental health in the workplace, we have clear values that guide our work. Day after day, we draw on enthusiasm, well-founded expertise and vision to help the working world to become a slightly better place.
Conscious, respectful treatment of our fellow human beings, work done together towards a shared goal and a firm conviction that we are doing good with our daily actions drives us and shapes the relationship with our client companies. All this unites us and makes the Fürstenberg Institut what it is – which is something we are all proud of. 
Our vision
We stand for a health system with a clear focus on maintaining and sustainably promoting mental health. Every person should be able to take responsibility for their own health and know what they could do to make themselves healthier. To make this possible, we advocate a system that is open to all, easily accessible and always available. In this way, we make an important contribution to more innovation, personal responsibility and human warmth in the world of work and beyond.
Who we are
Reinhild and Werner Fürstenberg founded their institute out of a deep conviction that a company's greatest potential lies in its employees. Each member of our now large and diverse team shares this conviction and, drawing on their passion and experience, puts extensive knowledge into practice in the course of their daily work. We take responsibility for ourselves, our actions and our environment, learn from each other and support each other. This enables us to form a strong team that itself practices what it communicates to others.
How we work
We work together on a project-by-project basis to find overarching solutions and thus create sustainable effectiveness in our work. To achieve this, we are always in close contact with our clients and cooperation partners and carry out our work in strict confidence. For over 30 years, we have stood for high levels of professionalism, quality and measurable implementation concepts, and we are continually engaged in an ongoing process of development. In this way, we bring a good mix of experience and deep-rooted knowledge to bear on our subject areas and the market while at the same time demonstrating vision and openness in relation to new developments and trends.
Our goal
With our comprehensive expertise, we pursue two important goals in our work. On the one hand, we help people to realize their own potential, both individually and holistically - because this enables them to find suitable solutions for personal and professional challenges. On the other hand, we enable companies to master current challenges with confidence and thus position themselves well for the future. In this way, we support people and organisations from within and make them fit for the challenges of an increasingly fast-paced world.
The Fürstenberg Model - Mental Health in 5 Dimensions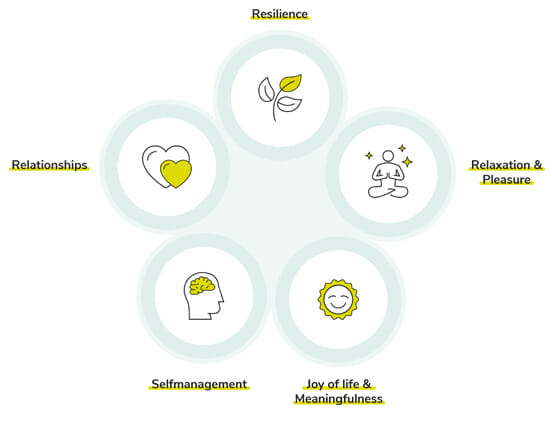 We are dedicated to ensuring that people receive early and preventive support – before serious mental stress has a chance to develop. For this reason, we have always been occupied with the central question of what keeps people mentally healthy?
Various scientific studies provided us with answers to this, and on this basis, we developed the Fürstenberg Model of Mental Health with its five dimensions that reflect the core of our work. This model defines our understanding of what mental health is and how mental illness can be prevented, and provides the foundation for what we do.
In 1989, Reinhild and Werner Fürstenberg founded the Fürstenberg Institut in Aachen. Through their work with companies in the fields of addiction prevention, reduction of absenteeism and management seminar provision, it had become apparent that there were no adequate contact points for mentally stressed employees that could recognize their concerns and offer practical help. This gave rise to the idea of external employee and management counselling.  
Today, with more than 200 colleagues in 10 institutes and 70 various locations, we ensure that mentally stressed employees from our client companies receive support at all times and in complete confidence for all challenges relating to work, private life and health. 
• Relaunch der Website
• New customer login, "myFürstenberg", with many digital services and an extensive media library
• Realignment: Employee and management consulting becomes Mental Health Coaching, Organizational Consulting & Academy becomes Corporate Health Consulting
• New business unit, "Health & Safety" (modern occupational medicine & occupational health and safety)
• Opening of the Institute's 10th site, in Bonn
• Expansion of international, multilingual consulting services
• Signing of the Diversity Charter(Charta der Vielfalt)
• Development of the 5 dimensions of mental health on a scientific basis
• Expansion of digital client events and e-learning courses
• Certification according to ISO 9001:2015 by TÜV Süd AG 
• 30th anniversary celebrations at all of the Institute's sites
• Introduction of video online consultations
• Opening of the Institute's site in Stuttgart
• Expansion of the nationwide expert advisor locations
• Eröffnung der Institutsstandorte in Frankfurt und Hannover
• Gründung eines Wissenschaftlichen Beirats
• Opening of the Institute's site in Munich
• Launch of the Fürstenberg Academy: expansion of seminar and continuing education programmes
• Official recognition as a debtor and insolvency counselling centre by the city of Hamburg
• Opening of the Institute's sites in Münster and Cologne
• Extension of consulting services to Austria and Switzerland
• Opening of the Institute's site in Düsseldorf
• Launch of the Fürstenberg Family Service (later renamed Work-Life Service)
• Expansion of external employee and management counselling to include companycorporate integration management (BEM)
• Opening of the Institute's site in Berlin
• Expansion of telephone counselling to the whole of Germany
• Relocation of the company to Hamburg
• Merger of Fürstenberg & Partner GmbH and the Fürstenberg Institute to form Fürstenberg Institut GmbH
Services: External staff and management counselling, seminars and organisational consulting, emergency management: stress management after emotionally difficult events
• Recognition as a specialized outpatient clinic for the rehabilitation of addictive disorders
• Foundation of the Fürstenberg Institute
Services: External employee and management consulting (Employee Assistance Program / EAP), prevention and therapy.
• Foundation of Fürstenberg & Partner GmbH, Occupational Health and Organisational Consulting in Aachen
Services: Workplace addiction prevention and reduction of absenteeism
Our commitment to sustainability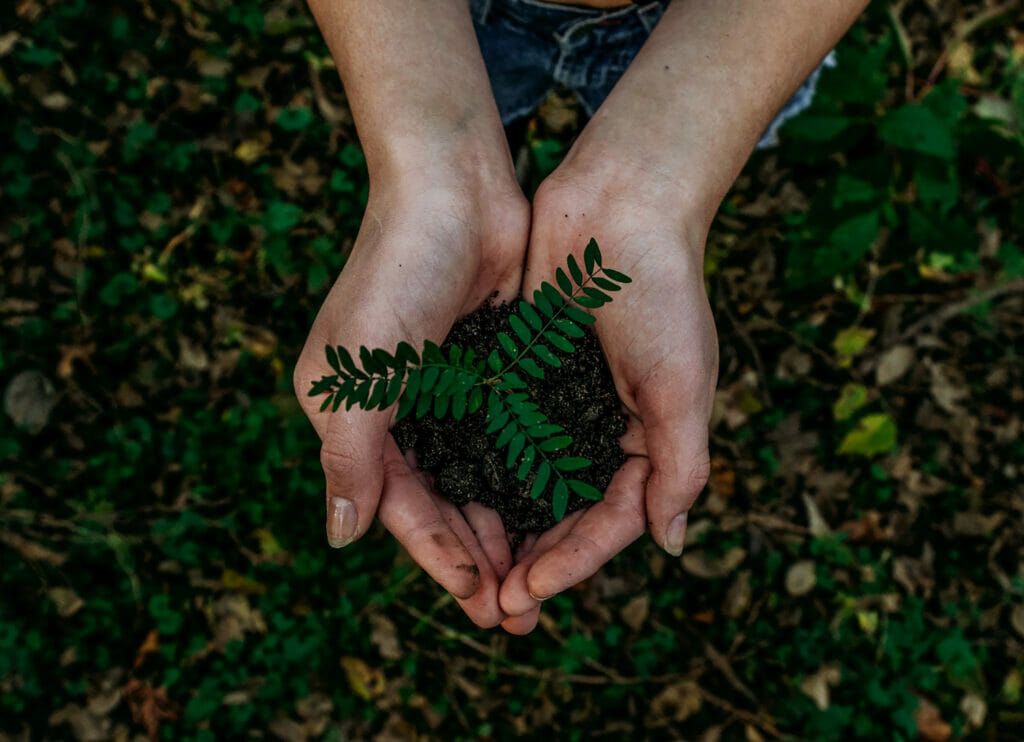 In our work with people, we build on trust, appreciation, diversity, respect and the sustainable use of resources. For us, these values are not just simple words; they shape our relationships with client companies, clients and each other. They are given life by the employees of the Fürstenberg Institute and motivate us to give of our best every day.    
It is natural for us to live our values beyond the confines of our daily work and to take responsibility for ourselves and others, for peaceful coexistence and a healthy planet.   
Sustaining resources
We are committed to the sustainable use of resources - in internal processes and procedures as well as outside of our work. 
Diverse work environment
We are convinced that companies with diverse workforces are more innovative and successful.  
Respectful collaboration
An appreciative and respectful approach shapes our relationships with client companies, clients and colleagues. 
Our first sustainability report 
Appreciative cooperation and the sustainable use of resources are very important to me. I experience this in the cooperation and open communication with our client companies and the sustainable success of our work with them. Through the sustainability project, I can now also make a greater contribution to the entire company becoming more sustainable – for our client companies, for nature and for future generations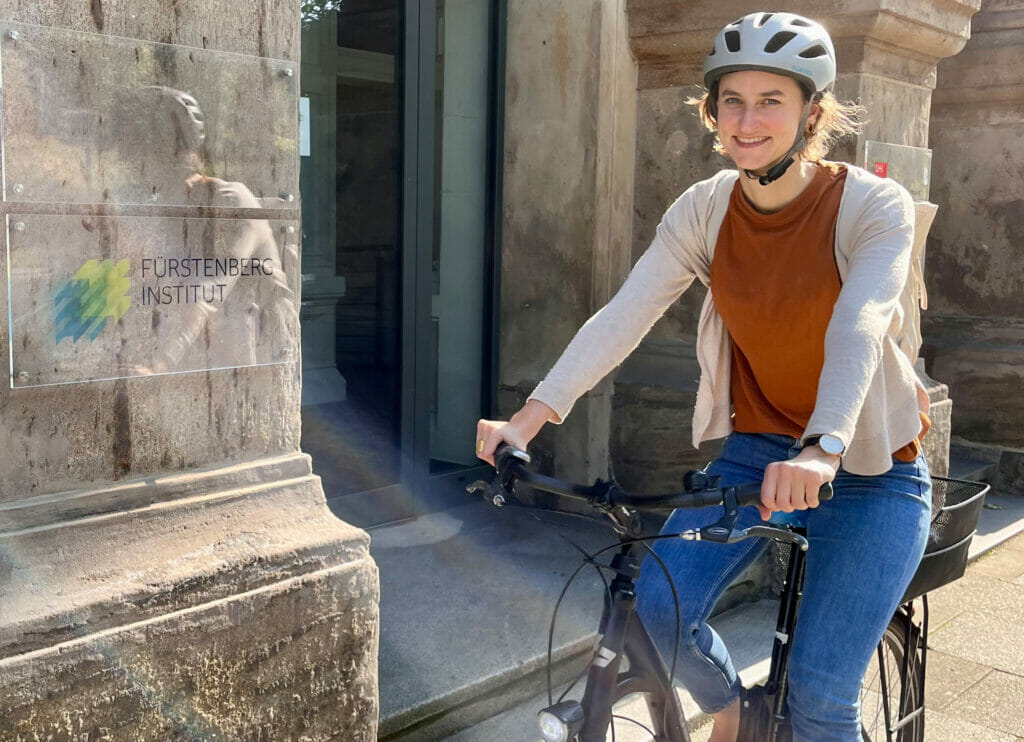 Diversity Charter - Charta der Vielfalt

We have signed the Diversity Charter / Charta der Vielfalt. This means that we are part of the Germany-wide diversity network and shows that we are committed to valuing and promoting diversity and to creating an appreciative working environment for everyone, regardless of age, ethnic origin and nationality, gender and gender identity, physical and mental abilities, religion and belief, sexual orientation and social origin